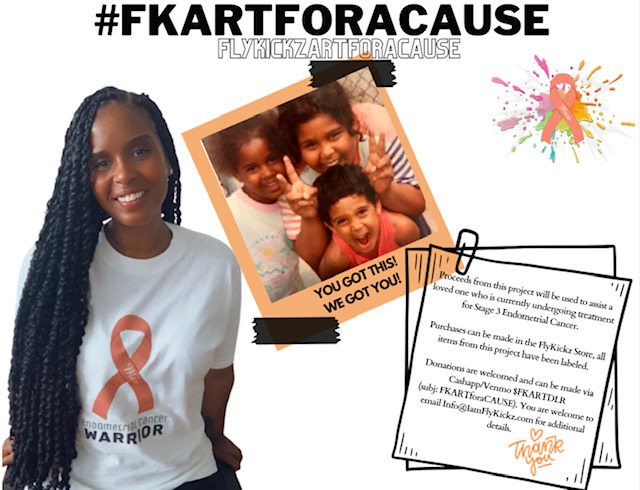 You can plan for a few things in life but expecting to hear you have Stage 3 Cancer is not one of them.
Dez, the Owner and Artist of FlyKickz has utilized her platform to do many things from volunteering for community cleanups, delivering over 1300 meals with Meals on Wheels, guest speaking at youth conferences, raising money to give back to those in need distributing hygiene products and lunches in addition to gifting kids within the community art supplies. Most recently, FlyKickz has hosted free youth art workshops and successfully raised $6,000 to curate the Youth Sneaker Customizing Workshop experience that took place August 2023.
FlyKickz Art for a Cause #FKARTforaCAUSE is inspired by Dez's amazing Aunt Mari who was diagnosed with Stage 3 Endometrial Cancer July 2023 and is currently undergoing Chemotherapy. Dez has always admired her aunt's personality, confidence and sense of self-awareness; growing up Mari was more like a sister because they are only a few years apart.
This part of the journey has been life altering. Chemotherapy has been difficult and as a result some days are better than others but Mari is a Warrior and she continues to fight and we continue to fight beside her!
FlyKickz Art for a Cause is not about completely changing the circumstances of Mari's Cancer, it's about FlyKickz using their art to help raise awareness & funds that will help to make Mari's fight with Cancer a little more manageable. With your purchase of an item from the #FKARTforaCAUSE project we can ease some of the financial burden of treatment, bills, help with a few essentials and raise awareness about Endometrial Cancer.
Purchases from the #FKARTforaCAUSE project can be made in the FlyKickz Store. If you're interested in making a donation, donations can be made via Cashapp/Venmo to $FKARTDLR (subj: FKARTforaCAUSE). We welcome you to email us for additional details.
In times like this, the support of your village makes a difference and we are confident we will see Mari through this! Thank you for continuing to Spread the word about FlyKickz. Your Support inspires us to continue creating & giving back.