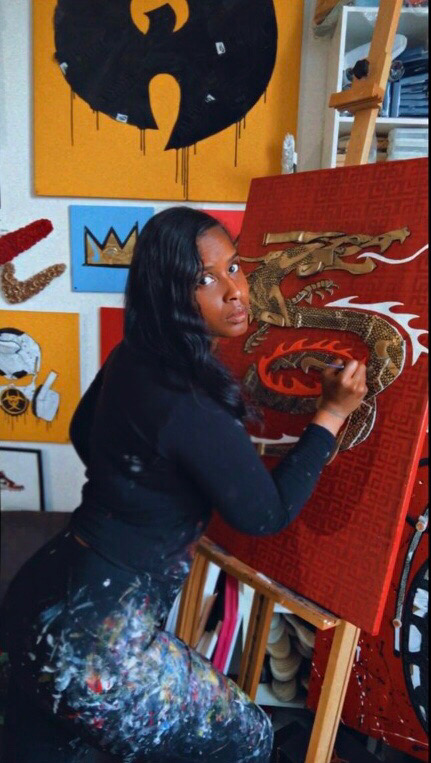 FlyKickz has had the opportunity to give back to the community by volunteering with numerous non-profit organizations, delivering over 1,000 meals to residents with Meals on Wheels receiving "The Feeding Friendship" Award and a Proclamation from Mercer County Board of County Commissions. In addition FlyKickz has distributed can goods, hygiene products and lunches to those in need, cleaned up local neighborhoods and community parks, assisted with Sneaker Customizing workshops sponsored by Foot Locker Philadelphia, Guest Speaker at events for the youth, hosted a free Youth Art Workshop and with the help of contributors raised $2500 to purchase over 1600 arts & crafts supplies for children within the community to further their artistic goals during the Pandemic.
FlyKickz aspires to create opportunities for others to flourish through their love for art by hosting free workshops and creating opportunities for fellow artists to connect and engage. With the right supplies, resources, funding and your help we will create art that has never been done with sneakers on a larger scale, expand our reach and have a bigger impact on the community by continuing to inspire and uplift the youth.
Your contribution will be used to fund community related projects like FKCarebags, offer FREE Art workshops for the Youth and purchase supplies.

Examples of costs of previous FlyKickz projects/ funds raised:
-FKCarebags (Hygiene Products + Lunches/50 bags total) $1200
-FKCarebags (Art Supplies/ 40bags total) $1500
-FkCarebags (Art Supplies + FlyKickz sneaker art canvas/ 10 bags total) $1000
-Free Art Giveaways valued $30-200 each giveaway
-Free Youth Art Workshop (Sneaker themed art on canvas panel/ class of 10) $350
-Donating Art to non profit organizations to help raise money (Art valued at $200-$500)

Contributions can be made via CashApp, Venmo, Zelle, and gifting via PayPal [email protected]; Please include your IG/Email when making a contribution, I would love to personally Thank You!